This article published firstly on https://www.applianceretailer.com.au/2017/12/multitap-turns-it-on/
With the latest 3-in-1 tapware.
InSinkErator celebrated the launch of its new range of tapware with an Italian-themed cocktail reception in Melbourne. Retailers, architects and interior designers joined brand ambassador and master chef, Guy Grossi to get their first glimpse of the Multitap.
This much-lauded Italian designed and manufactured tap dispenses cool and hot water as well as steaming hot water from a single kitchen mixer tap, delivering new levels of convenience and contemporary style to new and existing kitchen spaces.
L to R: Andrew Whitford, Ben Whitford (Whitfords); Scott Whitney (Narta); Ashley Balderson (Status Plus); Andrew Dean, Con Tsoutouras (Spartan Electrical), Steve Pearse (GM Emerson) Sam Zalin, Darren Coleman (Winning Appliances)
The Multitap 3N1 will be available in January in three designs and two finishes, chrome and matt black, supported with the next generation Neotank. This upgraded 2.5 litre tank allows the consumer to heat only what they need while conserving energy for environmental stewardship, with precise, adjustable temperature control up to 98⁰C.  InSinkErator has also introduced an interactive app that lets consumers visualise the new tap in their own kitchen using augmented reality. Multitap offers a set of time-saving applications including making tea and coffee, blanching vegetables, preparing noodles and preparing baby bottles.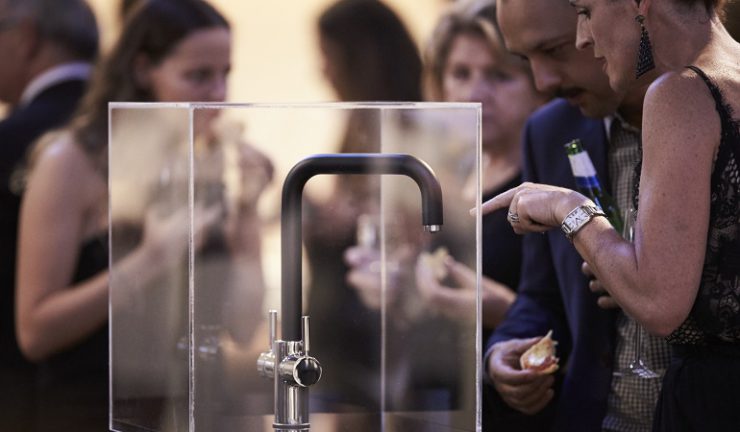 Guy Grossi (pictured below) described Multitap as a perfect and convenient addition to the kitchen. "Instant boiling water combined with the regular hot and cold water helps me keep cooking, with what I need always at my fingertips. The form and finish is well considered from every aspect," Grossi, who has cooked for the rich and famous, among them the late operatic tenor Luciano Pavarotti and actor Brad Pitt, told AR "for me everyone I serve is famous".
Multitap will be sold through selected electronics retailers including Winning Appliances, E&S, Whitfords and Spartan Electrical as well as kitchen and bathroom specialists.
InSinkErator, the global leader in food waste disposers is a business unit of the US multinational Emerson Electric that provides engineering services for a wide range of industrial, commercial, and consumer markets